Luxurious Adult Only B&B Accommodations near Leavenworth WA
When you choose lodging at Cashmere Mountain Bed & Breakfast, you will find that all of our rooms are designed for maximum privacy and comfort. This is a craftsman-built home, with many fine details incorporated into the design. As an example, all of our interior walls and ceilings are fully insulated, and all interior doors are solid wood knotty pine for added peace and quiet. Many guests have commented on the excellent quality of construction in these rooms.Our terms and cancellation policies will be listed when booking a room.
Cancellations – since we only have two rooms, cancellations impact us a great deal. IMPORTANT NOTE: Cancellations with less than 14/30 days notice are non-refundable. All cancellations will incur a $25.00 cancellation fee. During holidays, festivals and the Winter Holiday Period of December 14th to January 30 th, cancellations with less than 30 days notice are non-refundable. If we rebook your reservation after your cancellation notice, we will refund your payment, minus the cancellation fee. We do not refund due to winter weather conditions unless both passes are closed or smoky conditions due to summer wildfires. We want to ensure your cancellation is handled promptly, so we do not rely on e-mail cancellations. Please call us if you have to cancel. We highly recommend trip cancellation or interruption insurance at Travel Guard at https://www.travelguard.com/ for unplanned life events.
Check in time is 4:00 p.m. and checkout time is 11:00 a.m. Final payments are collected either 14 or 30 days prior to arrival depending on our cancellation policy as indicated below, therefore the deposit indicated on the reservation will change to collecting the full amount if your arrival is within our policy cancellation dates. QUOTED RATE DOES NOT INCLUDE EXTRA 1.95% IF USING INTERNATIONAL CREDIT CARD. This is a Non-Smoking facility. No candles or open flames in any room at any time. •We are designed for adults only. No children or pets can be accommodated. •No more than two persons per room are allowed at any time. •During winter months, traction tires/chains may be required on your vehicle.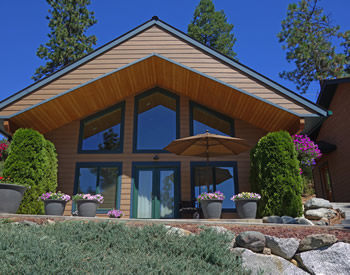 Each room has the following amenities:
Plush bathrobes in your closet
Hair dryer, Bath & Body Works soap, shampoo and conditioner
Thick, luxurious Turkish bath towels including black make-up facecloths
Games for couples, including Yahtzee, Cribbage, Backgammon, Scrabble & Bananagrams
Free wireless Internet access
Binoculars, day packs for hiking, flashlight, bottle opener
Extra blankets and pillows
Luggage rack and extra hangers in the closet
Complementary Snowshoes & Poles
Complementary Forest Services Passes for area hikes
Common Area Features
Each room has full access to the outdoor hot tub, which is open all year long. Since we have no light pollution, you can see the Milky Way while soaking in the tub! We also provide our guests with wine and beverage glasses (including acrylic for outdoor use) and snow shoes and poles for those who wish to enjoy the wonder and beauty of a Cascade Mountain winter by taking a hike in the snow!
All rooms have full access to the Common Area, located downstairs in the center part of the house. Breakfast is served there every morning at your own private bistro table for two. Each evening, Rochelle puts out her now famous home-baked goods, which includes caramel brownies, chocolate chip oatmeal cookies, banana cake with cream cheese frosting, and other delicious treats! There is a hot water dispenser for tea, spiced cider or hot chocolate, a microwave oven, plus plates, bowls and silverware. There is also a professional dart alley in the Common Area that includes a chalk scoreboard, and a full-sized leather couch for relaxing and enjoying the view!